Dear reader, welcome to our fourth and final WideHealth newsletter! We are excited to share the culmination of our project's achievements. Inside, you will find an overview of our project activities, key outcomes, and results. Our training courses, seminar recordings, and research publications are all accessible for free, reflecting our commitment to sharing knowledge. As we conclude this project, we would like to extend our gratitude to everyone who has contributed, supported, and engaged with WideHealth. Your dedication has been instrumental in making this project a success, and we are confident that the impact of our collective efforts.
WideHealth Thematic Schools
The project successfully organized three thematic schools, with the primary aim of enhancing the knowledge and technical competencies of undergraduate and graduate students in the domain of pervasive health. The initial school encompassed a broad overview of e-Health and Pervasive Technologies, followed by the second school concentrating on Human Factors in Pervasive Health. The concluding school revolved around the theme of Trustworthy AI, placing a special emphasis on federated learning. For further details on these schools, click on the images below.
WideHealth Training Materials
Leveraging the training materials developed throughout the project's duration, we successfully launched the WideHealth training repository. This repository comprises four distinct thematic courses, each delving into the specific project research topics. These courses include "Data Analytics and Pervasive Health," "Machine Learning for Human Activity Recognition with Wearables," "Human Factors in Pervasive Health," and "Trustworthy AI". Click on the images below to access these courses. Furthermore, specialized training materials centered around research management and administration were made accessible through a dedicated page on the project's website.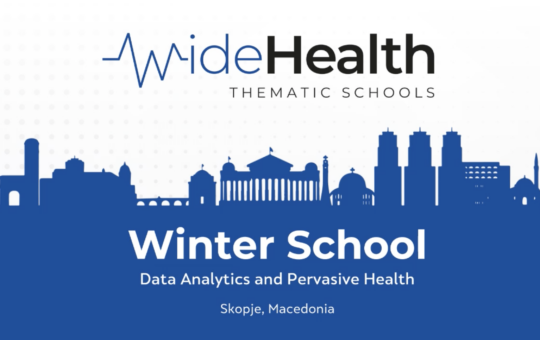 Conferences and Workshops
The project partners jointly organized five project events at international conferences, out of which three workshops held at international conferences, one dedicated conference, and a special session. Beyond their organizational role, these events served as pivotal platforms for the widespread dissemination of partners' endeavors, with a specific focus on showcasing the ongoing and developed research work within the project. For comprehensive details regarding these events, please click on the images below.
WideHealth Seminar Series
The WideHealth project offered lectures and seminars covering specific research domains, including data-driven healthcare, human factors in pervasive health, and federated machine learning. These activities encompassed both in-house seminars for internal stakeholders and public seminars addressing e-health topics. The project effectively disseminated a total of 18 public seminars over its duration. The seminar videos are available on YouTube and can be accessed through the provided links.
Open Access Publications
Over the span of the project, the WideHealth partners (co-)authored a total of 30 research papers concentrating on selected pervasive health topics, with 20 of these being joint efforts. All these papers are readily accessible for open access. To access and download these publications, please click on the provided links.
Overcoming Data Scarcity in Human Activity RecognitionIEEE EMBC 2023 | July 2023 |
Federated Learning for Activity Recognition: A System Level PerspectiveIEEE Access, Vol. 11 | June 2023 |
Resource Allocation of NOMA Communication Systems for Federated LearningIEEE Communications Letters, Vol. 27, No. 8 | June 2023 |
Prediction of Hospital Readmission using Federated LearningIWSSIP 2023 | June 2023 |
Smart Glasses for Gait Analysis of Parkinson's Disease PatientsMIPRO 2023 | June 2023 |
Recognizing Activities of Daily Living using Multi-sensor Smart GlassesMIPRO 2023 | June 2023 |
Federated Learning for Network Intrusion Detection in Ambient Assisted Living EnvironmentsIEEE Internet Computing, Vol. 27, No. 4 | April 2023 |
OCOsense Glasses – Monitoring Facial Gestures and Expressions for Augmented Human-Computer Interaction: OCOsense Glasses for Monitoring Facial Gestures and ExpressionsCHI EA 2023 | April 2023 |
A Survey of Bias in Healthcare: Pitfalls of Using Biased Datasets and ApplicationsCSOC 2023 | April 2023 |
Human Activity Recognition with Wearables using Federated LearningICAIIT 2023 | March 2023 |
Virtual Reality for Health and WellbeingMUM 2022 | November 2022 |
Using Virtual Reality to elicit Empathy: a narrative reviewMUM 2022 | November 2022 |
Facial Expression Recognition using Facial Mask with EMG SensorsMUM 2022 | November 2022 |
Using VR and Sensors for Anxiety with Children and AdolescentsMUM 2022 | November 2022 |
Food Frequency Questionnaire Personalisation Using Multi-Target RegressionNutrients, Vol 14, No. 19 | October 2022 |
Facial EMG Sensing for Monitoring Affect Using a Wearable DeviceNature Scientific Records, Vol. 12 | October 2022 |
Android Integration of a Machine Learning Pipeline for Human Activity RecognitionPervasive Health and Smart Sensing Conference at IS'22 | October 2022 |
Network Anomaly Detection using Federated Learning for the Internet of ThingsPervasive Health and Smart Sensing Conference at IS'22 | October 2022 |
Speaking Recognition with Facial EMG SensorsPervasive Health and Smart Sensing Conference at IS'22 | October 2022 |
Machine-learning models for MDS-UPDRS III Prediction: A comparative study of features, models, and data sourcesPervasive Health and Smart Sensing Conference at IS'22 | October 2022 |
Personalised Gait Recognition for People with Neurological ConditionsMDPI Sensors, Vol. 22, No. 11 | May 2022 |
What Actually Works for Activity Recognition in Scenarios with Significant Domain Shift: Lessons Learned from the 2019 and 2020 Sussex-Huawei ChallengesMDPI Sensors, Vol. 22, No. 10 | May 2022 |
Breathing Rate Estimation from Head-Worn Photoplethysmography Sensor Data Using Machine LearningMDPI Sensors, Vol. 22, No. 6 | March 2022 |
Differentially Private Federated Learning for Anomaly Detection in eHealth NetworksUbicomp 2021 | September 2021 |
Wild by Design: Workshop on Designing Ubiquitous Health Monitoring Technologies for Challenging EnvironmentsUbicomp 2021 | September 2021 |
Machine Learning based Anomaly Detection in Ambient Assisted Living EnvironmentsETAI 2021 | September 2021 |
Investigating Presence of Ethnoracial Bias in Clinical Data using Machine LearningETAI 2021 | September 2021 |
Analysis of Deep Transfer Learning Using DeepConvLSTM for Human Activity Recognition from Wearable SensorsInformatica, Vol 45, No 2 | July 2021 |
Cognitive Load Monitoring with Wearables - Lessons Learned from a Machine Learning ChallengeIEEE Access, Vol 9 | June 2021 |
Smartwatch-Based Eating Detection: Data Selection for Machine Learning from Imbalanced Data with Imperfect LabelsMDPI Sensors, Vol 21, No 5 | March 2021 |